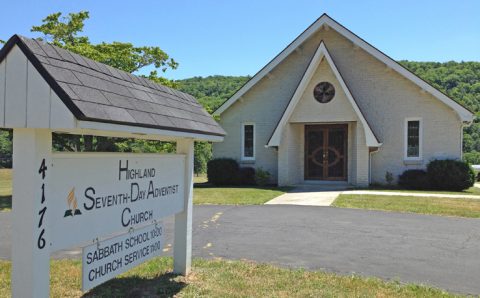 Highland Church History - by Bonnie Moyers
In the early 1960s, Seventh-Day Adventists sponsored some religious meetings that were held in Bethlehem Chapel on the Doe Hill Road, about four miles from McDowell.
The meetings were later transferred to land across the road from the chapel to the Cloud Tabernacle, a large bubble-like inflated tent. The first sermon preached there was about "The End of the World and the Beginning of Forever."
The land had been donated by Harrison and Dora Malcolm. Next to the Cloud Tabernacle, a church was being built. Many kind local people gave materials, money, time, and work to speed up its construction. Pastor Elmer Malcolm (Harrison and Dora's son) and Pastor Robert Clarke were speakers at the meetings. John Klim was the evangelist. Albert Ellis was the soloist and his wife Elaine sang with him at times. Ellen Klim created beautiful blacklight pictures. Lucy Gaddes was the Bible instructor.
My connection to these meetings was via music. I was asked to be one of the pianists.
On Sept. 15, 1963, I was baptized in the Cloud Tabernacle by Pastor Malcolm, along with others, in the portable baptistery.
Early church members included Mary and Wilma Botkin; Sue Botkin; Walter and Ellen Botkin; Bill and Evelyn Bowers; Lula Eckard; Hazel, Judy, Karen, and Ralph Hallman; Maggie Hammer; Clifford Hevener; Herb and Leona Hoover; Dora and Harrison Malcolm; Brian McCoy; Charles and Mamie Morgan; Bonnie, Carl and Nellie Moyers; Emma Pullin; and Jodie Simmona.
The three earliest pastoral couples were Elmer Malcolm and wife Nancy, Roger and Karen Mace and Rudy and Maredith Torres.
Shortly after the baptism, services were being held in the new church, which was dedicated Dec. 28, 1963. Church membership numbers changed as people moved to go to college, find work, or grow old, get sick, or die, and new members were added.